Product analysis by Vlad Catrinescu – requested by harmon.ie, but thoughts are my own.
Introduction
As workers increasingly work from home, a coffee shop, a public library or on the train, a lot of today's work isn't done on the corporate laptop anymore, but more on a mobile device such as a phone and tablet.  Core to this demand is employer's expectation for anytime access to information, people, applications and communications to support increased demand for productivity and customer responsiveness.   As SharePoint is becoming the lead document collaboration tool in the enterprise, the ability to collaborate on documents on a mobile device such as an iPhone or an iPad is becoming more and more important.
If you have an Office 365 Subscription, Microsoft gives you a free application, however it lacks a lot of features such as showing Metadata, checking out documents and a lot more that we will see later. This is where third party applications come and fill in the gap to provide a true SharePoint Experience for the mobile user!  In this review, we will check out the SharePoint App for iPad or iPhone done by harmon.ie.
The harmon.ie app SharePoint App for iPad or iPhone comes in three editions:
Lite: Read only functionality to SharePoint for those who want to have a taste of the harmon.ie Mobile experience for Free
Premium: Full featured functionality including Read, Write and Upload to SharePoint, for the individual user
Enterprise: Full featured functionality including Read, Write and Upload to SharePoint PLUS enterprise features like centralized deployment and provisioning.
In this article we will review the Premium edition of the application which costs 20$ for the iPhone or iPad.
The Application
The Premium Edition of the application can easily be bought by everybody who has an account on iTunes for 20$.  I will first start by showing its features and what I really found excellent about the application as well as comparing it to the free Microsoft 365 Application. You might ask why I am comparing it against the 365 Application, when most of the businesses are still on-premise. If you use on premise, you do not have any official free Microsoft Application to connect to your environment, therefore you are stuck with using the browser which is really not a fun experience! I will try to provide my opinion on every feature, as well as pictures so you can actually see it in action. (A picture is worth 1000 words right J ?)
The first screen you will see on both apps is pretty similar. You have a list of SharePoint Sites that you have added to your application.  You will notice the Harmon.ie SharePoint app has two "menu buttons" on the top. The right one will always give you the same options throughout the application, while the left one is contextual, which means its contents will change depending where you are in the application!
Afterwards, where the fun begins is when we start going to look at the documents.  Even if both views appear similar, you will see that the harmon.ie SharePoint App has the ability to Search Documents (bottom right) while the free Office 365 app doesn't.  Furthermore, with the harmon.ie app you can create a new document directly in the document library, as with the Office 365 app, you need to create a new document and afterwards save it in the document library.
Until now, the only thing we did is display sites, display documents, but now let's see how it's like collabortating with them. When you tap on a document name in the O365 App, it will open it using Word. However, on the harmon.ie App it brings us to a new scren that shows us all the metadata about the document.  We can see who created it and who last modified it, as well as the content type and every thing associated.  Furthermore, you can see the version of the document . We all know that one of the major selling points of SharePoint is the ability to add Managed Metadata to documents and easily see who created and modified documents as well as versioning. What good are all those features if your mobile users can't take advantage of them?
From now on, the only feature left in the Office 365 app is to create a new document using Word, Excel or PowerPoint.  With harmon.ie SharePoint App for iPad or iPhone you can do the same, but in two different ways. If you use an on-premise SharePoint, you can create documents using a local "office copy" program, or if you have Office 365 and an internet connection, you can also create them directly in the Document Library using Office Web Apps!  Office Web App actually integrates with the application really really well and you have the option to "only view" or "edit in browser" which is really cool!
Going back a bit at the documents, when you are in the view of the document and tap on the "contextual menu" button, you have a lot of usefull options such as Editing the Metadata, sending the document by email or only a link as well as checking out the document.  If a document is checked out,  you can easily see who checked it out and you can also see the "version"
Another feature I found really cool that lacks in the Office 365 App is being able to filter documents by View in the Document Library.  You have a drop down of all the views available and it will only load what you want to see!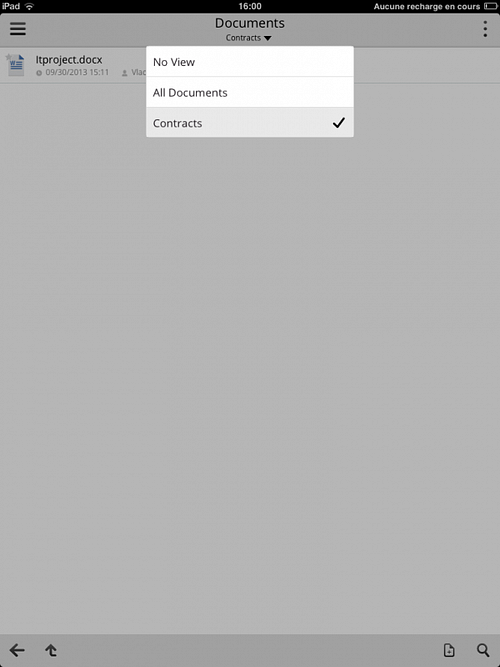 Lastly, the first thing that rings in the Security Admin of your company mind when he hears BYOD, is "what if the iPad is stolen?". It's an excellent question and it's trully something to be worried about. With the Office 365 application, you don't have the option to password protect your application.  However, with harmon.ie, you have the option to protect your application with a 4 digit passcode!
Conclusion
In my personal experience as a consultant, most companies do not currently allow their users to go on SharePoint without being connected to the VPN because the network administrators are still afraid of the devices getting in the wrong hands and I truly understand them, however BYOD and the always connected employee is the future!  For companies that are on Office365 or have their SharePoint Websites opened to the internet, giving a proper access to their mobile users is a really important factor in user adoption of the SharePoint platform and missing this point could jeopardize the success of your SharePoint Project.  Even if Microsoft gives the O365 app to the subscribers for free, I believe it doesn't give the user the full experience and security of SharePoint and it can decrease user Interests.
The harmon.ie SharePoint App for iPad or iPhone gives the user a lot more information about the documents as well as many features that your users are using daily in SharePoint but are not available on the free Microsoft Application. The added password security is real bonus for the security of Enterprise Documents. I find that feature-wise, the application is really complete, however there are two things I would like to see in a next version:  The first time a user opens the application, Notify him and let him set up his Passcode right away.  Currently, to turn on the Passcode, the users need to go in the application settings, turn the setting on, and select it! Also, not making it a fixed "4 character" passcode could add some security to the app and the approval of your security admin!
If you are looking for a mobile application for your users, I highly recommend you at least try this application as it's really feature rich and adds an extra layer of security!
To learn more about harmon.ie for iPhone & iPad , please go to harmon.ie's website.
(16)